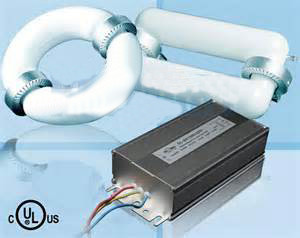 200 Watt Induction Lamp Ballast Generator Kit Details:
Induction Ballast Operating Voltage: 220V (175V-265V)
Ballast Generator Type: Electronic Induction Multi-Volt
Amp Draw: 220V=1.06
Induction Ballast Generator Wattage: 200 Watt
Ballast Type: Electronic Induction Generator
Efficacy: (LM/W) 95
Ballast Factory Warranty: 5 Years
Induction Lamp Life: 100,000 Hours
Induction Type: External Induction
All Mounting Hardware Included
Lamp Included: 200W Induction
Lamp Rating: (open rated)
Certifications: CCC, UL, CE, FCC, SON and KETI
Induction Ballast and Lamp installation:
Kit comes with all necessary lamp and ballast mounting hardware.
Induction Kit includes wiring instructions.
Zero maintenance costs for 10 years!
Lamp Shape Options: Circular or Rectangular Type
Circular induction lamp dimensions: W: 12.36in x H: 4.06in
Rectangular induction lamp dimensions: L: 18.98in x W: 5.75in x H: 4.06in